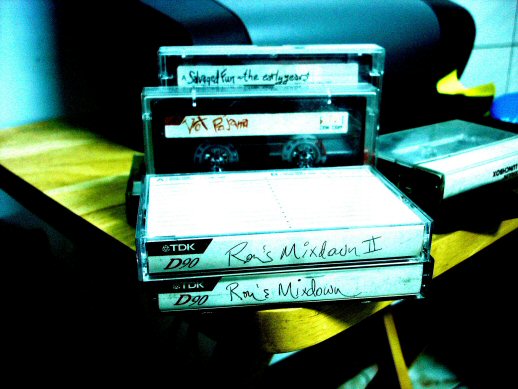 Intro
About 10 or so years ago, I was an infoschlep for Bell-Northern Research [which then got absorbed into what is now (?) Nortel Networks].

During this time, due to forces I shan't go into here, I suddenly acquired a few accoutrements of musical production—a 4-track, some effects, a cheap electric guitar, and a few other bits of things—and started cobbling together songs and other little audio "happenings".

Well, this yea many years later, I've finally transfered them to MP3, and am posting many of them here for your delictation.

Bear in mind, I'm not saying they're good; if you actually elect to download and listen to some of them, you may find yourself wincing, even painfully.

But, dammit, they're mine; I created them. They're sort of like my babies. And I fancy to feel that you will find at least one gem in the bunch; something that resonates.

To help you prioritize what you might be interested in, each tune has a little introductory statement/disclaimer.
Ron's Mixdown
Class of '75
Class of '75 is one of the first things I did, and boy is it crude.

Among the problemss that plague it are: The "drum" is a cheap set of vaguely drummy sounding things on a consumer synth of some kind; lots of tape saturation (Ça, c'est la charme!); the main riff is basically an Amboy Dukes ripoff (from Migration; Journey to the Center of the Mind(?)).

But: I still love it. It has neat things going for it, and I particularly like the B section, and the way I augmented the A section recap with the lead guitar riff and vocal harmony. Another interesting factor is the lyric, which is dark, but I think fairly well-crafted:

Where did they go?
What did they do?
Why did they do it?
What about you?

It's the class of 1970... It's the class of 1970...
It's the class of 1975 [one two three four five!]

[Bridge]
It's three-quarters of a century
Of pride [plenty of pride]
Ten of us became dentists
Fifteen hygenists [open up wide]
All in all, quite successful,
Though five of us died. [...]
All in all, quite happy,
Though some of us cried [Living outside]
Only twenty-five years
To the millenium of Our Lord [Of Our Lord]
Will technology save us by then
God only knows [God only knows]
Twenty-five of crossing
Our fingers and toes [Our fingers and toes]
Twenty-five of eating
And buying new clothes [Striking a pose]
[End bridge]

Where did they go?
What did they do?
Why did they do it?
What about you?

It's the class of 1970... It's the class of 1970...
It's the class of 1975 [one two three four five!]

Some made dollars, and
Some made sense.
Some went to Europe,
To get intense.
Some roamed the desert,
In search for truth.
Some set up mail order,
In Duluth.

It's the class of 1970... It's the class of 1970...
It's the class of 1975 [one two three four five!]

Hmmm.  '75...  Gosh, that was...that was so long ago.
Geez, it's like

Go ahead...go ahead!  We understand...you can tell us!

Lemonade Star
This is nice. The lyrics came from a bedtime story I told my eldest daughter, Comfrey. A bit later, I was working on a new riff, and wanted to lyricize it. I dredged up that old story, worked it over a bit, and this song was born.

I'm not insensate to the fact that my melodization didn't quite "gel" in key places, but that's life.

Hope you like it!
Nyak Nyak Song
As usual, there's a story behind this song as well.

I was twinking around with sounds on a cheap sampler, as well as some Brazilian percussion instruments left behind by a work buddy who split to go back to Brazil. I got the idea of developing a general framework for a song structure, easily notated and readable by kids, and enlisted my eldest and her buddy to help with the vocals and some of the percussion.

An interesting thing was that I couldn't get clean rhythms out of the kids; I was wearing the headphones and showing them a steady beat by bobbing my head and setting the example with something I was beating on, but they didn't pick up on that. Later, when Comfrey heard the final product, she felt a little bit of regret. She said, "If I'd known where this was going, I'd have paid more attention to the beat!"

The weird "clattery" sound—rising and falling in pitch—at the end is an a-go-go being rattled with a drumstick while I'm plunging it into and out of a large bowl of water.
Merriman Is My Boy
For this song, I'd found a beat up old junk guitar, with missing strings. I open-tuned it, and started whanging on it. Merriman, who was maybe 11 or 12 at the time, was sitting nearby, so I spontaneously belted out these doggerel verses. I recorded it, then developed and added the lead guitar work.
The Party
I wrote The Party after going to...a party. I mean, go figure.

Everything in this song is true. Well, except for the bit about them hypnotising a hen. And the idea that the Seven Sisters, actually, literally, talked to me. I did feel like that, though. I mean, they virtually talked to me. I did feel loved at that moment.

You see, my friends and I were playing our music at this party, and they absolutely hated us.
The Myth of the Apple of Discord
This little bit of spoken word is taken directly from the Principia Discordia.

Note that I cite the work, and also note the very nice incidental music! I'm not even sure now how I did it.... But I guess that only adds to the charm. Hail Eris!
My Bike
For My Bike, I used my sampler, driven via MIDI by an Atari ST. I recall that I had a new 4-track for this piece, because the bike sound is filled with little bits of noise—I had yet to work a bug out of the system; I hadn't yet realized that the unit required the use of hi-bias tape.

I was, at the time, often riding my bike the 5 miles to work. I was also using my bike to jockey quickly between the various buildings.
Untitled Dance Riff
This may be my favorite thing of all. The structure is a little repetitive, and I didn't work up enough variations on the keyboard line, but I still am very fond of it. It's a chummy little piece of dancable music, don't you think?
Berg's Adagio Appasionato from the Lyric Suite (conclusion)
I kind of had a crush on Alban Berg as a younger man.

Anyway, I went to the music library at Michigan State University and ran off a copy of the sheet music for the Lyric Suite and tried working up guitar solo arrangements for bits of it; a misbegotten venture, to be sure.

But my interest rekindled when I realized I could program some sort of string accompanyment for three of the four parts, and do the lead on guitar. I chose this rather ponderous conclusion from the Adagio and did it up. What do you think?

There's a distinctly mechanical aspect to it, since I've got this drum roll program on my ST keeping the time. But I still think it was worth the effort.
Thing Factory (with Kelvin Porter)
Kelvin also worked at BNR/Nortel, and I enjoyed his bass playing very much. We formed a little band with Sheldon McGruder on drums, and had a lot of fun.

For this recording, however, we didn't have recourse to Sheldon, so I'd programmed my ST to keep a passable beat.

I love this little thing. It gave me a chance to be a belatedly Angry Young Man, and something of a headbanger. Bear in mind I didn't make a "guitar face" (in the words of Joe Queenan) when I played the final ascending sequence in the instrumental bridge.
That's All for Now!
And that winds it up. I have a few more things, but space limitations on my web server constrain me to only put out the "best" <choke!> of these productions. I hope you find them entertaining and somewhat uplifting!
---