Intro
I'm presently enrolled in a Mandarin Chinese intensive at Taipei's 國立台灣師範大學—that would be:
中國字
注音符號
拼音
英文
Chinese
characters
"bupumufu"
phonetic
characters
Pinyin
romanized
equivalent
English
國立
ㄍㄨㄛˊ ㄌㄧˋ
guólì
National
台灣
ㄊㄞˊ ㄨㄢ
táiwān
Taiwan
師範
ㄕ ㄈㄢˋ
shīfàn
Normal
(Teachers')
大學
ㄉㄚˋ ㄒㄩㄝˊ
dàxué
University
("big learn")
So I study from a textbook, listen and speak during three hours a day of classes, and sometimes behoove myself to speak to folks in Chinese outside of class.
---
A Project!
But I also read! I find books that look interesting and slowly pick my way through them, using an electronic dictionary, shown here: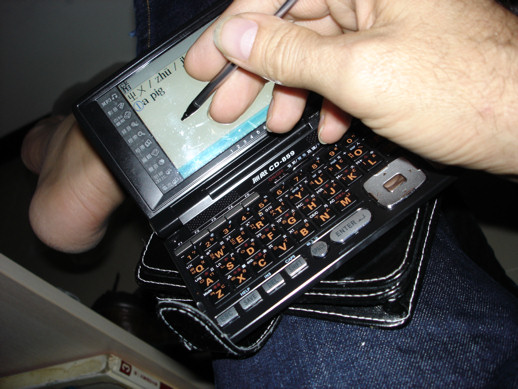 I recently got an inspiration to make a "flashcard" system for drilling in Chinese, to assist myself in learning to read a little quicker.
Have a look at my first "completed" production; well, the first draft, anyway!
It's a set of word/idiom flashcards to aid a reader in getting thru a wonderful (if a bit romantically jaded) childrens' book called "The Creepy Prince"! Here's how to use it:
First, actually, you have to have the book! However, you may find the interface interesting, and I invite you to tool around it and write back with ideas.

OK. I recommend expanding the text size a couple of notches. The bigger, the better, as long as it's not too big! You'll get the idea pretty quickly how big is big enough.

You can select a page/chapter/section by clicking on one of the links at the top. Since this is your first time in, click on "Cover"; the first, beginning, flashcard.

You can reveal the Pinyin, Zhuyin, and English references on this word by "rolling" your mouse "over" the corresponding Chinese indicator words along the left hand side of the card.

You can also navigate. Click on the down-arrow to step to the next word/idiom, the up-arrow to step backward (in case you wish to review), and click on the dot to return to the index at the top of the page.

Again, all this will only make proper sense if you have the book. Nonetheless, it showcases an interesting use of the web to create an instructional environment.

Enjoy!
---