The "Ghost School", & Hakka Center Opening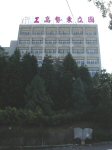 I discovered a weird thing one day when I was bombing around on my new bike; something that appeared to be a "ghost" school. I saw this building from afar, and headed toward it. I figured from my vague awareness of some Chinese characters that it was some kind of vocational school. I rode on in—and up; this being a hilltop operation—and found an abandoned complex. I could tell it wasn't just closed "for the season;" there was no sign that there had even been minimal "mothballing" maintenance.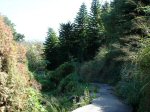 It's kind of nice to hang around. It's quiet and private, and you can explore a bit. In retrospect, I suppose it was a little ill-advised to spite the "buddy system" and go it alone; I might have fallen off something or other, broken a bone, and had to creep down the hillside for a kilometer before I could draw the attention of someone who could come to my aid....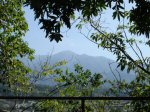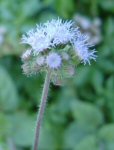 Anyway, I got a few nice pics of some nature in the area, like this view of the mountains and some pretty flowers. One thing I didn't think of capturing this trip was a shot of a classroom interior. There was a greenboard with a lesson written on it in chalk; but for the weeds growing 'round about and fallen leaves drifting through the classrooms like tumbleweeds, you'd think the class had just recessed for lunch. Spooky.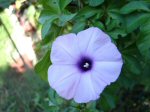 So, of course, the question is: Why was this facility abandoned? It finally occured to me to ask someone, and I got my answer. The structures were condemned after the big earthquake on September 21st, 1999.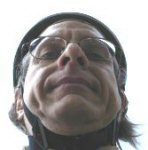 Got a pic of myself, here. My camera is a bit of a wonder. I just turned this thing upward and got a shot of myself. When I downloaded it onto my laptop and started to process the image it was a little startling, not to mention a mite disconcerting. This is a 5 megapixel camera (Sony CyberShot DSC-W1), and the shot is close range. One could easily do a population count of my oversided facial pores from the image! Not very flattering. This explains why the image to which this thumbnail links isn't much bigger than the thumbnail; I want to minimize the kind of damage to one's self-image which can be wrought in our modern hi-tech, hi-rez era.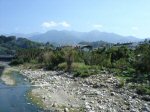 I got another shot of some particularly high mountains on my way home from the school.
---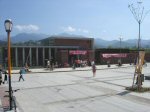 There was one bit of public archtecture whose installation was nicely framed by my stint this year in Dongshih; the tearing down of the old train station and erection of the "Hakka Cultural Center."

When I first arrived in Dongshih for my interview with Pauline at Joy English School, I got here about 2 hours early. I popped in, introduced myself, and said I'd look around town a bit and come back in time for the meeting.

I noticed the old train station at the end of the block, and headed over to investigate. It was a dilapidated wreck of a building, strewn with trash. Behind the station I found, not tracks, but a very lovely, well-designed, well-built, and well-maintained foot and bike path. I began a trek down this path, while watching my watch.

Well, as things turned out, shortly after being offered a job by Pauline, work on the new "Hakka Center" quickly began. They tore down the old train station and quickly-but-thoroughly built this new structure.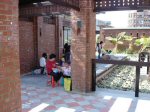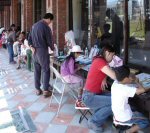 For the Grand Opening, they decided to make it a "kids' day." Kids were given paper and pastels and asked to draw some pictures. I presume they'll be proudly displayed in the center at some future date.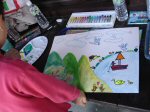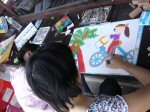 Anyway, these images capture kids busily at work creating their masterpieces.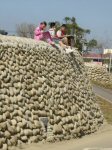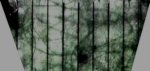 Just for kicks, I'm throwing in an oddity; a digitally processed image of a part of a wood deck at this center. This processing enhances a fascinating glyphic-looking coloration; this might have been the inadvertent handiwork of a worker dragging a ladder around during construction or decoration. I think it's charming as hell! Maybe you can digitally incorporate this into something of your own.
---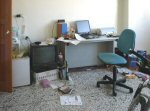 "Home again, home again / jiggety-jig!"
---