Judy; Cartoons by a Doting Student
These are cartoons by Judy, a cute little girl—maybe 6 years old...7?—who's enrolled at Joy, and who I get to teach in a comparatively small class every two weeks or so.

Sorry; no picture of Judy! Maybe later.

Anyway, I think Judy had a little "crushy" thing on me, early in the game. She started drawing pictures of me and leaving them on my desk when I wasn't looking. I'll show you a few....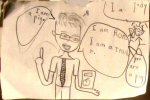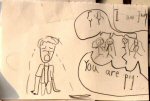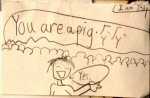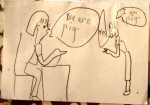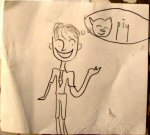 Judy's little puppy crush on me has pretty much abated; I no longer get these cartoons. We do get on fabulously in class, though!
Some notes:
You'll notice this () in some of the pictures. That's actually writing in a phonetic symbol system the Chinese use, called ju in fu hao ("jew-een-foo-how"); anglos affectionately call it bupumufu, after the first four sounds in the phonetic character set; 'bpmf...'. It's used extensively in teaching Chinese to kids in the lower grades, and I've had to learn it in my studies. This system is popular for Chinese "entry methods," such as typing on a standard keyboard, and typing in text messages on cell phones.
Anyway, Judy is writing "ha!"; the sound of laughing! Also note the downward slash; that's a falling pitch shift, which is actually typical of laughter. These people are laughing at me! Judy knows my weak spot...
The references to "pig" all over the place relate to the fact that calling someone a "pig" seems to be a friendly taunt kids use all the time here; sort of like the innocuous American "you dog!" Funny how that's backward: Calling someone a "dog" in much of the rest of the world is pretty serious effrontery.
Although Judy draws me wearing a tie, in fact I never wear ties in class; in fact, I don't own a tie. It's no doubt an iconic shorthand, arising from the fact that Western-style ties are generally considered appropriate for male teachers at the "real" schools in Taiwan.
WRT that last comment about the tie, it highlights the fact that Judy, although she is very young, actually has good artistic sensibility; her sense of line is quite mature, and she has a good understanding of the importance of icon in graphic communication. Notice the crowd of people in the background in the 3rd picture. Using the outline like this is very effective; she no doubt saw this trick in a cartoon elsewhere, but has the sophistication to objectify it and appropriate it for her own work. Impressive for a very little girl!
---