Taichung with Joe
Joe Bodkin, a Canuck who teaches at the bushiban next door, and I had ourselves an outing to Taichung. We took a bus to Fongyuan, took the train to Taichung, then took a long walk to the Caves bookstore near the Natural Science Museum.

We got lost en route, probably because I was yakking so much, it was hard for poor Joe to keep tabs on our bearings.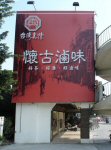 But we saw cool things. I was particularly smitten by this billboard. Sorry, I can't tell you what it is for, but I was struck by the historical feel of it. You can see Joe on the spiral staircase, to the right.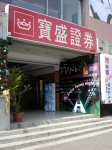 I sort of got a kick out of the graphics on this disco. I retained adequate resolution on the image so you should be able to read most of it. Note that they appear to name it after the Italian town, Milan. It's funny how they do it—though, come to think of it, we do this in English for foreign place names, too... Anyway, the two characters you see there are "mi" (rice) and "lan" (orchid); so the name literally means "rice orchid." Of course, they just did it for the sound.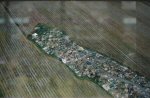 Outside the Caves Bookstore, in a wide pedestrian median strip across the street, was an exhibit of images from all over Taiwan. The exhibit was called "Our Land, Our Country," and tried to use these hi-res images to tell stories about the island, including treatment of land resource issues, as this image does. This is an arial view of a cemetary. All texts were in both Chinese and English. To the best of my recollection, this write-up pointed up a best estimate of a very limited time until there will be no more room to bury Taiwan's dead, particularly without regulation of plot size. However, it's also mentioned that more and more Taiwanese are opting for cremation; so a crisis point will likely be averted.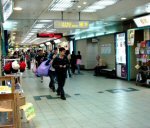 Ok, I guess you should be wondering why this next shot is of Joe, sitting in the underground shopping mall under the Taipei Main Station.
It's sad but true; Joe and I screwed up and jumped on an express that left the station in Taichung and didn't stop until it hit the Taipei Main Station. Embarassing, wot?
We had to pay a fare adjustment (don't ask!), then find a bus home. Fortunately, we found a scheduled bus right to Dongshih, so things could have been worse.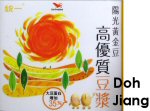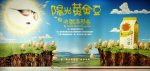 But look on the bright side! I got a shot of this nifty billboard advert for soy milk. I also happened to have a carton of this stuff around the house, so I got a shot of the label for your examination. I threw the words "Doh Jiang" on there to help you pronounce the Chinese expression for "soy milk."
---