Visiting Lee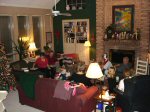 The Baughs kindly welcomed me back into their home for another Christmas. I spent 'Eve night there, helped out with the food preparations and hung out with the family. I had a few things to stuff into stockings; notably a slew a strange patches people can stitch onto their garments. I picked these up from a bin at a little shop in the underground mall at the Taipei Main Station.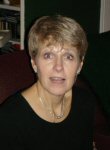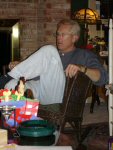 Here are Debbie and Jim Baugh. Debbie is a retired schoolteacher, and Jim has been city manager for three (or so) middling towns in Texas; he's now ensconsed in De Soto, south and a bit west of downtown Dallas.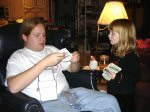 And here's Lee, helping out his niece, Lily. She's smart as a little whip, and Lee is no slouch either; he's been working on his Ph.D. in Computer Engineering at Champaign/Urbana (Il). I met Lee at Nortel; I was with the MTX Project Office, and Lee was a Masters student at University of Texas in Dallas needing a bit of scratch. He signed on for a coop position, and wound up under my purview, helping me automate project tracking and other system data acquisition, preprocessing, and integration. I taught him Tcl!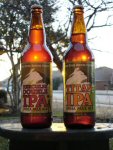 And here's some of what Santa gave me for Christmas: BEER!
I brought it home and got this morning shot of early morning light shining brightly therethrough.
---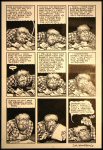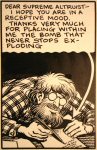 Lee is doing me a favor: I had put my "stuff" in storage at John's house, but I didn't want to store my original comic art there; I wanted it to be put up somewhere so that someone could enjoy it from time to time. Lee has the stuff hung up in his room at his parents' house, so I got out my camera and got hi-res pics of two pieces: A limited edition print by Yves Chaland, and the first page from an incredible dream journal cartoon by Jim Woodring. What you see here are the page, then one panel, very hi-res, so you can maybe make out some details of Jim's technique. Bear in mind, these are BIG FILES, SO DON'T CLICK ON EITHER OF THESE TWO THUMBNAILS UNLESS YOU 1) HAVE BROADBAND, OR 2) ARE NOTABLY PATIENT. Sorry about the glare at center-right of the full page image.
---